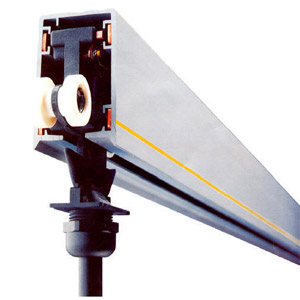 Compact, reliable and safe current supply system for cranes, hoists, monorail systems, conveyor belts etc. The basic design of shrouded conductor system is a channel housing, in which four slots are prepared to accomodate copper conductors. The flat conductors are installed without the need for joints.
Advantages
Excellent Price/Quality Ratio :
The concept of the continuous conductors and the use of only high quality components result in a trouble free feeding system against an agreeable price
Continuous copper conductors :
The flat copper conductors can be pulled from rolls into the previously installed PVC housing in long continuous lengths, without any connections in the conductor.
High current capacity :
Copper conductors of various capacities can be pulled into the channels in the housing. Standard conductor capacities are 50A and 80A.
Simple Installation :
Due to the light weight of the PVC housing, copper conductors without connections and the design of accessory components, system installation is a quick and easy operation.
Virtually Maintenance Free :
The PVC housing needs no maintenance and as previously mentioned continuous copper conduc-tors ensure minimal brush wear. Thus minimising the presence of carbon deposits. Inspection periods can be scheduled in line with the schedule of the apparatus to be fed (i.e. a crane).
Compact Design :
By virtue of design, the 4-Ductor system utilises an absolute minimum of space.
High Mechanical Strength :
The PVC housing has a combination of high flexural yield, impact. tensile strength and is complemented by the design of associated components.
Maximum Power Transmission :
The brushes are positively located in the PVC hous-ing and contact with the flat copper conductors is maintained by spring pressure. This guarantees a positive contact and excellent power transmission.
Exceptionally Long Carbon Brush Life :
Is achieved due to the absence of conductor joints and connections which ensures trouble free opera-tion.
Safety To Personnel :
The high level of volume resistivity of the PVC housing ensures absolute safety to personnel.
No Expansion Problems :
Due to the clearance that exists between the conduc-tors and their location and the clearance between the PVC housing and sliding hangers, expansion due to changes in ambient temperature is accommodated without affecting the operation of the system. This also applies to extra long installations where standard components eliminate expansion problems often experienced with alternative systems.

---